Wealth
How To Make Money With Gilead?
Despite stellar developments with the historic approval of CAR-T, the share price of Gilead Sciences (NASDAQ:GILD), a growth company (focusing on the innovation and commercialization of drugs to treat infectious diseases and cancers), continue to head South (after a temporary period of runup). During the Nov. 4 trading session, shares traded down by $1.69 at $71.75 (for 2.33% loss). Some investors are frustrated, seeing the value of their investment receding.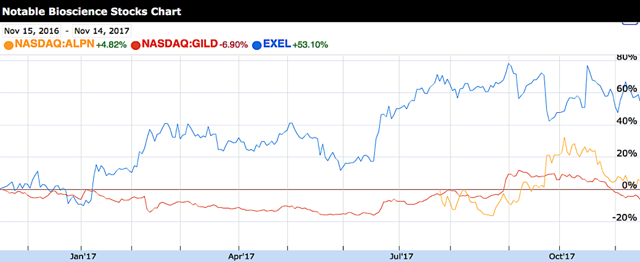 Source: Dr. Tran BioSci (Adapted from Google Finance)
Share Price Recession Creates Purchasing Opportunities
A reader under the pen name Doyle3000 stated,
I'm down $50k on paper as well. And, I have been crushed buying naked calls from a few years ago. I thought that they were going to pay off my mortgage but ended up being worthless. I'm now down $16K in realized losses. It hurts. But I agree 100%. This will be a great long-term stock to own. They print cash and have great products. Once they start getting the love (and the P/E goes back to 15), it'll make up for all the pain. That's not too high of a bar.
Reiterating The Long Thesis
Despite that we recently initiated coverage on Gilead, we firmly believe in the long thesis in this stellar Fisher grower. What we wish to elucidate to readers is that the market response is what we anticipated: this is nothing new. According to the Father of Growth Investing, Philip Fisher,
Not even the most outstanding growth companies need necessarily be expected to show sales for every single year larger than those of the year before. In another chapter, I will attempt to show why the normal intricacies of commercial research and the problem of marketing new products tend to cause such sales increase to come in an irregular series of spurts rather than a smooth year-by-year progression. The vagaries of the business cycle will also have a major influence on year-to-year comparisons. Therefore growth should not be judged on an annual basis but, say, by taking unties of several years each. Certain companies give promise of greater than normal growth not only for the next several-year period but also for a considerable time beyond that.
As alluded, Fisher mentioned that investors should not expect certain companies like Gilead to post sales growth every year. It is the norm for tech (especially biotech) firms to post growth as an irregular series of spurts rather than the linear fashion. Each growth spurt occurs after the approval and launch of stellar drugs. For Gilead, the last period of growth occurred with the hepatitis franchise (Sovaldi/Harvoni) after the acquisition of Pharmasset. From 2012 to 2015, the stock rallied from $27 to $119, thus representing 340% gains. As hepatitis revenues started to lower (because the drug works so well that it started to consummate its market), the stock's trading also followed the similar trajectory. Accordingly, the shares went from $119 peak to its $64 nadir in June this year.
With the recent CAR-T approval, we witnessed shares traded up to the recent peak of $72 (and then see-sawing back slightly lower). It is highly likely that CAR-T will change Gilead's fortune (but why is this significant?) Let's look at what Philip Fisher would have said,
Those companies which decade by decade have consistently shown spectacular growth might be divided into two groups. For lack of better terms, I will call one group those that happen to be both "fortunate and able" and the other group those that are "fortunate because they are able." A high order of management ability is a must for both groups. No company grows for a long period of years just because it is lucky. It must have and continue to keep a high order of business skill, otherwise, it will not be able to capitalize on its good fortune and to defend its competitive position from the inroads of others.
That being said, Gilead would fit into the "fortunate because they are able." The stellar management (saw that the US hepatitis sales are stagnating or rather receding) and they immediately pushed for solutions. First, they realized the vast market in China (where hepatitis C is most prevalent) and they're pushing for the firm's antivirals to be marketed overseas. More importantly, this management also seized the stellar unlocked value in the CAR-T franchises that Kite Pharma is brewing. Accordingly, the acquisition of Kite for $11.9B can be argued as expensive by some investors. While the buyout might be pricey, Gilead's $11B purchase of Pharmasset indeed brought in the $25B peak sales in 2015.
Of note, investors can go back to the prior article to read up on the underlying science of CAR-T and TIP-vIgD. Notwithstanding, we wish to feature the insight by the highly intelligent reader (a finance professional under the pen name SpoiledRottenBrat) which captured the essence of the efficacy and safety of the aforementioned cancer drug.
One fifth grade teacher (in the ZUMA 1 trial) received a single dose of Yescarta and was able to go back to work full time a month after treatment. She said her cancer has gone and it has not returned (in 9 months). The patient failed on two chemotherapies where the non-Hodgkin lymphoma ("NHL") roared back in a short time. Apparently, once the white blood cells are engineered and injected into the patient (i.e. with Yescarta), they continue to kill NHL indefinitely – so a second treatment isn't necessary. However, the 100% complete response for all patients isn't expected.
Potential Risks
Gilead's fate is now most likely rests upon the upcoming performance of its CAR-T franchise. If the company can continue to advance the innovation of the revolutionary individualized medicine therapy, regulatory approval and launch will take place. Hence, the main risk to investing in Gilead is whether the numerous trials (studying the efficacy and safety of CAR-T) will post positive data (and to gain approval). We have a near 100% accuracy in trial data analysis. And, we are thrilled at the high positive likelihood of the upcoming data for the vast number of CAR-T franchises.
If more robust data catalysts to be reported, the stock will head up North in due time. The other risk is the slow launch of CAR-T because of the individualized treatment approach (that can be more time consuming than conventional treatments). Despite that individualized medicine is slower to roll out but the compensation for the development efforts can be substantial premiums.
Conclusion
In all, the problem we see is that investors who bought in at the end of the latest growth cycle with the Hep C opportunistic growers (formerly Harvoni/Sovaldi) lost money. This purchasing correlates to any time going back to the previous two years. Now that Gilead picked up the next growth catalyst, CAR-T (one of the most powerful cancer breakthroughs), the stock will start to pick up steam to move up drastically (in the next few years).What can spark this favorable trading? While it is difficult to pinpoint the catalysts, it's not far from the truth that when more approvals and sales from the enriched CAR-T pipeline to come in, the share price will follow the lead.
We will close this article using the famous words of Fisher, "In and out maybe out of the money." This certainly applies to investment in growth (bioscience) firms. That being said, we recommend those who bought in two years ago to be patience (and those who are lucky to purchase at this highly favorable valuation to not worry if it goes down more). You're owning a great firm with stellar medicines (that cure rather than mending symptoms). Investors who have not purchased shares should buy in the stepwise fashion, small chunks at a time. In the case that share price will move down, you can purchase more for a lower overall average cost. Furthermore, time will unlock the value of a great investment. The company invested in the leader of CAR-T. Warren Buffett himself usually invests in the cream of the crops type of stocks, as that tends to pay off big. It is not far from the truth that it's simply a matter of when, rather than if, time will reward shareholders and patients alike.
As the final notes, we urge Gilead to acquire Alpine Immune Science (NASDAQ:OTC:ALPN), as the $140M cap company has stellar assets to fuel further growth for shareholders and to deliver more cures for patients. Exelixis (NASDAQ:EXEL), is also a highly promising prospect that has an extremely robust pipeline (of innovative cancer treatments with the proven drug, cabozantinib).
Author's Notes: Readers are encouraged to join our marketplace, Integrated BioSci Investing, where we discuss daily trades and long-term holdings like Gilead Sciences.
Disclosure: I/we have no positions in any stocks mentioned, and no plans to initiate any positions within the next 72 hours.
I wrote this article myself, and it expresses my own opinions. I am not receiving compensation for it (other than from Seeking Alpha). I have no business relationship with any company whose stock is mentioned in this article.